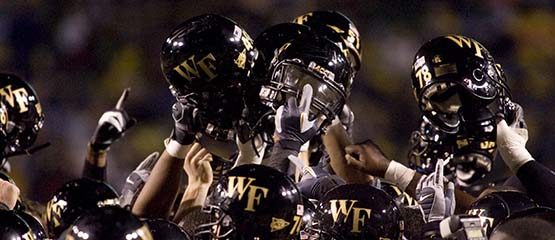 Winning an ACC football championship game is one thing. Contending year in and year out is another.
It's the morning after for Wake Forest's football fans. Now that they've come down from their delirium over the Deacons' intoxicating run to an ACC title and Orange Bowl appearance, they raise a sobering question: Was last season a harbinger or a fluke?
They can be excused for any residual cynicism they might harbor. In the past, the gridiron Deacons have had winning seasons, but those have been reefs in a sea of futility. No loyal wearer of the old gold and black needs reminding of the grisly won-lost statistics that place Wake Forest near the bottom of college football programs historically. The few bowl seasons there have been seemed to have resulted more from a confluence of fortuitous factors—few injuries; a senior-dominated roster; breaks at crucial times—than from true competitive dominance. And although last year witnessed its share of debilitating injuries with the loss of a starting quarterback and tailback, it also contained an ample portion of good fortune in the various narrow victories the team eked out.
Yet, this time, there is the palpable sense that things are different—that Wake Forest finally has a football program that's built to last. From the stability and longevity of its coaching staff, to its recruiting and redshirting strategies, to its perennial upgrading of facilities, to its old-school emphasis on fundamentals, the ground game, and stellar defense and special teams play, Wake Forest has a plan in place to sustain its drive. For its fans, the morning after has dawned a bright and happy day.
A special feature of Wake Forest Magazine.
---
Story by David Fyten
Photos by Ken Bennett
---
Go to part:
1. Built to Last
2. Jim Grobe
3. Coaching-staff stability
4. Recruiting
5. Redshirting
6. Facilities
---
Football is more than just a game—it's an event. It's extremely important to have a championship-contending team to set the tone of positivity you want to carry through the year.
— Ron Wellman, director of athletics
I think what makes most coaches happy is when you finish a season and you look back and you know you got as much as you can out of your football team.
— Jim Grobe, Head Coach
For us as coaches, we are just trying to get every bit of energy and performance out of our team and if we can do that then we'll just take whatever record-wise.
— Jim Grobe, Head Coach
Ever since we got up here for the summer and started training it's been all about this year and not last year. It was fun last year but it's over now. We've got a tough one ahead of us.
— Riley Skinner, sophomore quarterback
I think as a freshman everyone has aspirations of coming in and making an impact immediately…You have to realize that you're a better player once you're older. You get more acclimated to the system.
— Aaron Mason, senior safety
If there are long waiting lists for tickets, so much the better—that means the stadium is full of fans of Wake Forest and not of our opponents. What we envision it becoming, really, is the Wrigley Field of college football.
— Ron Wellman, director of athletics