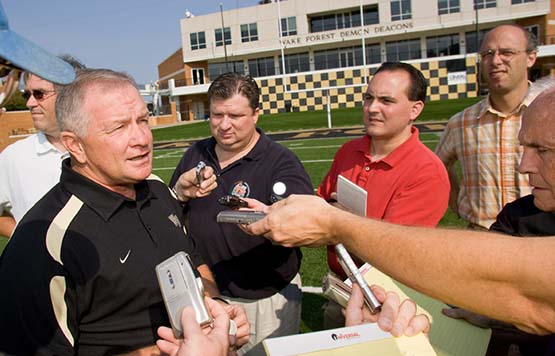 For any plan to succeed, everyone has to be on the same page. And under Jim Grobe, there are no page-turners. When Grobe was hired in December of 2000, less sophisticated observers who consider only won-lost records in evaluating coaches were underwhelmed. In the six years he had spent as head coach at Ohio University immediately prior, his record was precisely .500—33 wins, 33 losses, and one tie. But Ohio historically had been among the worst programs in the nation. As modest as Grobe's victory total was, it made him the fourth-winningest coach in school history. In the decade before his arrival, the school's overall record had been 17-89-2, including one winless season and five years with one victory. With that to build on—and by winning Mid-American Conference records in five consecutive seasons and a MAC title—he probably did as good a job as any coach in America.
Ron Wellman, Wake Forest's director of athletics, was one who perceived the magnitude of Grobe's achievement at Ohio and why it might make him the ideal guy for Wake Forest. In evaluating Grobe's potential, "I went back to [his time at] Air Force," he says. (Grobe was an assistant at the Air Force Academy under the legendary Fisher DeBerry from 1984 to 1994.)
"Air Force was excellent scholastically as well as athletically, which was our model. As a head coach, he had guided the worst program in Division I football to a conference championship. He was willing to be patient. And he was a disciplined person who would stick to his plan."
Grobe's definition of sustained success is simple: challenge for the conference title and a bowl invite every year, and graduate an overwhelming majority of players. Consider the latter already accomplished: in the most recent rankings, Wake Forest was first in the nation with a football Graduation Success Rate of 96 percent—38 percentage points above the national average. Deacon fans can take justifiable pride in that accomplishment, and can credit the good work of the academic support staff and a recruiting strategy that emphasizes academic ability and interest as much as athletic talent.
As for the former, if one were to distill to four factors Grobe's blueprint for competing for titles and bowl bids, they would be: coaching-staff stability; recruiting for character and scholastic aptitude as well as talent; wholesale redshirting; and continual upgrading of facilities.
A special feature of Wake Forest Magazine.
---
Story by David Fyten
Photos by Ken Bennett
---
Go to part:
1. Built to Last
2. Jim Grobe
3. Coaching-staff stability
4. Recruiting
5. Redshirting
6. Facilities
---
Football is more than just a game—it's an event. It's extremely important to have a championship-contending team to set the tone of positivity you want to carry through the year.
— Ron Wellman, director of athletics
I think what makes most coaches happy is when you finish a season and you look back and you know you got as much as you can out of your football team.
— Jim Grobe, Head Coach
For us as coaches, we are just trying to get every bit of energy and performance out of our team and if we can do that then we'll just take whatever record-wise.
— Jim Grobe, Head Coach
Ever since we got up here for the summer and started training it's been all about this year and not last year. It was fun last year but it's over now. We've got a tough one ahead of us.
— Riley Skinner, sophomore quarterback
I think as a freshman everyone has aspirations of coming in and making an impact immediately…You have to realize that you're a better player once you're older. You get more acclimated to the system.
— Aaron Mason, senior safety
If there are long waiting lists for tickets, so much the better—that means the stadium is full of fans of Wake Forest and not of our opponents. What we envision it becoming, really, is the Wrigley Field of college football.
— Ron Wellman, director of athletics