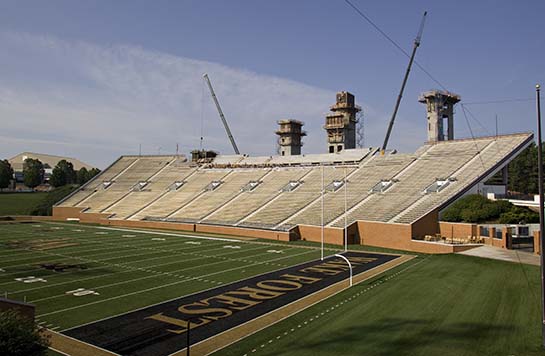 Grobe minces no words in describing Wake Forest's football facilities when he arrived.
"They were terrible; absolutely terrible," he says. "Ron Wellman was committed to getting our facilities up and running, but the only problem was, it was a big project, and we couldn't accomplish it overnight.
At Air Force, we always had one little project going on, and that's the approach we took. Ultimately we're going to have to get to the stadium locker room and redo our weight room. But once the stadium is finished, I think we'll be able to say that our facilities are as good as everyone else's. But of course, we don't ever want to say that we've arrived so we're going to have to identify ways to improve them a little bit each year."
Wellman is ebullient about Groves Stadium's potential.
"We'll have three or four more phases of stadium renovation after the initial phase," he says. (The two-year Deacon Tower project now under way includes a new broadcast and print media operations facility, premium club seating and box suites, and new ground-level restrooms and concession stands.) "All are focused primarily on providing more amenities for our fans, with expanded parking and tailgating areas, restrooms and concessions around the stadium and at Deacon Hill, and so forth. When we're finished, we will have one of the most comfortable and enjoyable college football stadiums in the nation.
"Of course, all this depends on our ability to raise the money for it," he notes. "But I truly believe our football team will be better in 2007 than it was in 2006, and better in 2008 than it will be in 2007. If that happens as I expect that it will, then our fans will respond in attendance and fundraising."
Facility Renovation Projects
1st year: Installed lights on the practice field
2nd year: Renovated offices, practice locker rooms, and meeting rooms
3rd year: Revamped the practice fields and put in Field Turf
4th year: Rebricked the inside of the stadium
Last year: Installed the new Field Turf surface in the stadium
Current project: Press box and the Deacon Tower enhancements
A special feature of Wake Forest Magazine.
---
Story by David Fyten
Photos by Ken Bennett
---
Go to part:
1. Built to Last
2. Jim Grobe
3. Coaching-staff stability
4. Recruiting
5. Redshirting
6. Facilities
---
Football is more than just a game—it's an event. It's extremely important to have a championship-contending team to set the tone of positivity you want to carry through the year.
— Ron Wellman, director of athletics
I think what makes most coaches happy is when you finish a season and you look back and you know you got as much as you can out of your football team.
— Jim Grobe, Head Coach
For us as coaches, we are just trying to get every bit of energy and performance out of our team and if we can do that then we'll just take whatever record-wise.
— Jim Grobe, Head Coach
Ever since we got up here for the summer and started training it's been all about this year and not last year. It was fun last year but it's over now. We've got a tough one ahead of us.
— Riley Skinner, sophomore quarterback
I think as a freshman everyone has aspirations of coming in and making an impact immediately…You have to realize that you're a better player once you're older. You get more acclimated to the system.
— Aaron Mason, senior safety
If there are long waiting lists for tickets, so much the better—that means the stadium is full of fans of Wake Forest and not of our opponents. What we envision it becoming, really, is the Wrigley Field of college football.
— Ron Wellman, director of athletics