Exhibit spotlights Museum's growing collection
"Face to Face, The Art of Exchange in Mainland Papua New Guinea," a permanent exhibit at the Museum of Anthropology, features a selection of the museum's growing New Guinea acquisitions. Masks, ornaments, tools and clothing showcase the people and cultures of this Oceanic country.
New Guinea artists usually incorporate faces or images of spirits and ancestors into their artistic designs—reflecting the importance of trade in a country where political and marital alliances involve the exchange of significant goods.
Artistic designs reflect the importance of interpersonal relations to New Guinea's natives.
"Eyes, nose and mouth are usually on a piece somewhere; they may be abstract or they may be clearly noticeable. 'Face to Face' not only alludes to the faces on the artifacts but also to the personal relationships that are an important part of these cultures," says Stephen L. Whittington, museum director since 2002.
Mainland Papua New Guinea, the second largest island in the world, is home to over a thousand separate communities—most with small populations divided by over 800 languages, social customs and traditions. The Highlands, in the middle of the island, are home to the majority of New Guinea's mainland people.
"Big Man"
"Papua New Guinea is home to many fascinating, rich and diverse cultures," says Margaret Bender, chair of the anthropology department. "Some cultures provide examples of a type of political and economic leader known as the "Big Man"—an individual whose leadership of multiple villages comes from his own charisma, industriousness and generosity."
"Pig feasts, or Te ceremonies, are huge giveaways where one man gives all his accumulated pigs to a trading partner, says Museum Curator Beverlye Hancock. "The partner is expected to soon reciprocate by giving even more pigs back to the first partner.
"In this way, a man can become recognized by the highly sought title."
Change is coming
The kundu drum, a wooden hand drum used at festivals and ritual exchange ceremonies, was donated by a collector who lived and worked in Papua New Guinea in the 1960s at a Lutheran mission station in the Enga province. "The collector realized that change was taking place and bought older pieces of clothing, ornaments and ceremonial objects," Hancock says.
The cultures of Papua New Guinea are becoming exposed to the modern world, and man-made paints and materials are, in some areas, replacing the earthy pigments and natural materials used in traditional artistry. "It is rare to come across older objects," Whittington says. "The natural materials used, such as woven palm and carved wood, do not last in the humidity of the island where they are subject to insects and animals."
Valuable donations have come from several collectors, but the largest number were donated in return for a small favor Whittington offered when he was director of the Hudson Museum at the University of Maine.
Objects received from this anonymous donor were individually labeled—a white tag on the end of a string meticulously noting the village where the piece was purchased and the year in which the purchase was made. In many cases, the name of the artisan and the amount paid for the item are also recorded. "As soon as I opened the first box, I knew we were receiving objects gathered by careful and astute collectors."
A Wake Forest Magazine special feature.
---
Wake Forest University
Museum of Anthropology
Phone: 336.758.5282
E-mail: moa@nullwfu.edu
---
"Face to Face:" A Multimedia Gallery
Take a tour through the virtual museum with curator Beverlye Hancock as your personal guide to Papua New Guinea culture and artifacts.
Photographer:
Eugenio Cebollero
Technical assistant:
Glenn Peison
---
Flag of Papua New Guinea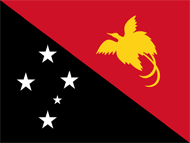 ---
Map of Papua New Guinea