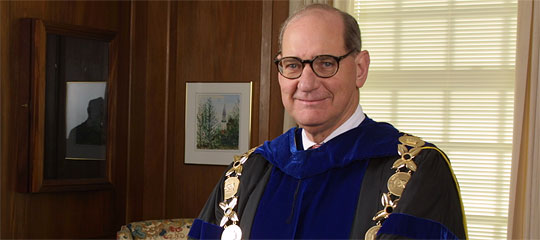 Thomas K. Hearn, Jr., 1937-2008
By Kerry M. King ('85)
Nineteen ninety-six was perhaps the most difficult year for Thomas K. Hearn, Jr., during his twenty-two years as president of Wake Forest. The deaths of four students as the academic year began were followed by the deaths of several staff members, a dean, a trustee, and a prominent alumnus. The grief was still palpable when he addressed the graduating class of 1997 the following spring.
On that Commencement morning eleven years ago, on a Quad that would later be named in his honor, he recalled a life lesson from his own undergraduate years, when one of his professors remarked that Shakespeare's tragedies were regarded as superior to the comedies. "I asked at once, 'Why is that?' He turned to me with an expression on his face, which revealed that these were words from his heart and soul: 'Because Mr. Hearn, life is more tragic than comic.'
"For many years I mistook his message," Hearn told the graduates. "He did not say that life is tragic rather than comic. He said life is more tragic than otherwise. The world's story is told in both comedy and tragedy, in laughter and tears. Not all our endings are happy, but some are wonderful indeed."
Hearn's own story had seemed to have a happy ending after he was able to return to work in the spring of 2004 following surgery and treatment for a brain tumor in the fall of 2003. He led Wake Forest for another year before retiring, as he had originally planned to do, in June 2005. His death on August 18, at the age of 71, following a recurrence of his brain tumor, reminded the University community of another life lesson he taught on that Commencement morning: "Life is infinitely precious, and our grasp on it is but frail."
His August 22 memorial service in Wait Chapel was held only hours after this year's freshman class was welcomed to Wake Forest in the same venue. Those students will find a vastly different Wake Forest from the one that Hearn found when he arrived in 1983: vastly expanded facilities on the Reynolda and Bowman Gray campuses; nationally known professional schools; better-qualified students and a more accomplished faculty; more research, co-curricular and volunteer service opportunities for students; and an athletic program that competes for national championships. What was a well-regarded, but regional, Baptist liberal arts college emerged into one of the nation's premier independent universities during his tenure.
William C. Friday, the venerable president emeritus of the University of North Carolina system, watched that transformation. "I believe Tom Hearn was one of a very few university presidents who really made a difference in the last decade of the 20th century.
He put Wake Forest in the mainstream of American universities," he said recently. "He clearly made his mark as one of North Carolina's superior leaders. And he was a good man."