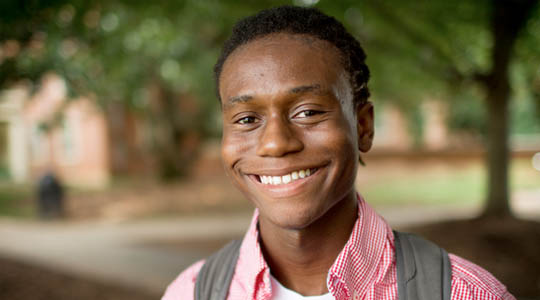 ---
Story by Melvin P. Washington ('14)
Related: Learning to Look
In August hundreds of other first-year students and I endured a grueling march up a hill, into the woods (I don't like bugs) and through a museum, all to see one painting: "The Andes of Ecuador" by Frederic Church. As captivating as the South American vista was, I was more impressed by the way this painting fit into the overall Wake Forest orientation experience.
Most schools have convocations and lectures with smiling-yet-distant professors, but Wake Forest orientation went a bit further. While mindlessly dragging my aching body along the trail, I couldn't help but notice a multitude of smiling faces and people offering cups of water and kind words. The closer we got to Reynolda House Museum of American Art, more gathered to help and introduce themselves.
I'm no art critic, but I could have enjoyed the piece on my own. The burgundy mountains in the background, the majestic waterfalls and the bottomless cliffs were just as breathtaking when viewed online in the solitude and serenity of my residence hall as they were when I was in the museum surrounded by countless other students.
What I couldn't get from the viewing in my room were the kindness, expertise and eager¬ness of the Wake Forest staff. Until today, I would have never understood how I could use a paper-towel roll to focus the eye for a more in-depth and lively viewing of a work of art. That impressed me.
I feel my experience with this painting was reflective of the overall orientation process, which augurs well for the rest of my four years. Orientation proved Wake Forest could provide new perspectives on things once overlooked by an untrained eye. The viewing seemed to showcase the educational model of the University, where a caring, qualified and friendly staff is easily accessible to anyone who has so much as a simple question.
Church's painting did much more than please my eyes; it was a crucial supplement to an orientation that eased my anxieties regarding professors and the curriculum. I guess one could say Church's brilliant depiction of an exotic land¬scape, ironically, made me feel right at home.
Melvin P. Washington II, a first-year student from Ft. Lauderdale, Fla., plans to study political science.