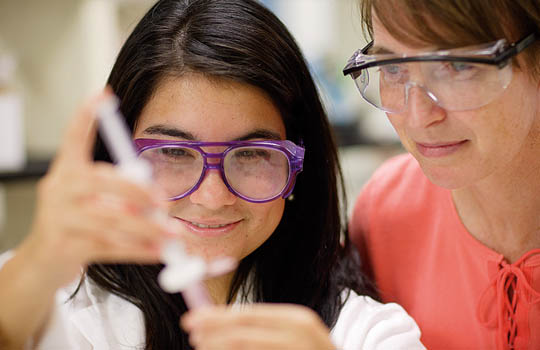 ---
With a stronger mentoring program, new global outreach and a focus on team solutions across disciplines, Wake Forest is embracing liberal arts and the professions.
Wake Forest's strength derives from its distinctive combination of intimate scale and expansive assets normally associated with much larger institutions. The College, the graduate school, and the four professional schools of law, medicine, business and divinity command top national rankings while remaining faithful to the teacher-scholar model and the University's larger culture of attention to the individual and service to others. It only stands to reason, then, that promoting innovative connections across the campuses would promote richer teaching, learning, research and service experiences. And that is precisely what the liberal-arts-and-professions initiative seeks to do — leverage existing assets and judiciously create new ones to yield a whole that is greater than the sum of its parts.
But its hoped-for outcomes extend beyond simple collaborations between the undergraduate, graduate and professional school faculties. Through new interdisciplinary and international study opportunities, along with richer mentoring aimed at uncovering students' values, interests and professional ambitions, it seeks to offer undergraduates practical career applications of the cross-cultural, communication, creative, critical thinking and comparative skills they have acquired through their liberal arts studies.
In this section you'll find progress reports on the initiative's primary strategic activities: the nurturing of innovative interdisciplinary collaborations; the building of a nationally recognized mentoring and career advising program; and the expanding of international service-learning and study-abroad programs.
Mentoring: Personal responsibility and a partnership
The seeds of character and purpose in college students come to their fullest fruition when they are nurtured, and in that regard, Wake Forest University always has been something of a master gardener. Through its expanded Office of Personal and Career Development (OPCD), Wake Forest is building on that role — starting with the principle that the process is a partnership.
Each of the office's four divisions — The Center for Innovation, Creativity and Entrepreneurship; the Mentoring Resource Center; the Office of Career Services; and the Professional Development Center for Arts and Sciences — functions from the core belief that to become all they can be, students must take responsibility for their own development. They, and their parents, will be exhorted — from the very outset, at Orientation — to embrace and encourage that responsibility. For every step they take in that direction, the University will take two in return.
"College is an ideal time for a young person to learn important frameworks for identity formation, defining values and passions, developing their views of the world and work, and acquiring the necessary experiences, relationships and skills to create options and succeed in life," says Andy Chan, vice president for career development and director of the OPCD. "What we are trying to do is encourage students to become more aware and purposeful in experiencing college life fully so they can reflect on their experiences and make clear decisions about who they are, who they want to be, and the work that they will do in the world."
Wake Forest undergraduates have a track record of offering fresh concepts. To help them develop and experiment with commercializing or patenting their ideas, The Center for Innovation, Creativity and Entrepreneurship will provide educational and financial resources, experiential opportunities and mentors.
Modeled after the successful Ernst & Young Professional Development Center in the Schools of Business, the Arts and Sciences Professional Development Center will offer courses, workshops and individual coaching to develop soft skills valued by employers, such as professional communication, influencing and interpersonal skills, the ability to work with people from different cultures and generations and knowledge of etiquette.
The Mentoring Resource Center will offer training, standards, support, inspiration and recognition for mentors and mentees, as well as recruit mentors from among the ranks of upper-level students, alumni, faculty, staff and professionals. "Our goal is to enable every student who wants a mentor to have one," says Allison McWilliams ('95), center director, "and then to have the best mentoring experience possible." McWilliams parlayed her English and Spanish majors and a master's degree in public relations into a successful 12-year stint in leadership and organizational development at the University of Georgia before arriving back at her alma mater in June to lead the center. She will be developing mentoring relationships for groups as well as individuals — for example, the Strategy and Consulting Club, which seeks to learn from professional consultants. "The objective is to take what has always been part of the Wake Forest experience," she says," and make it the core of the Wake Forest culture."
And the Office of Career Services, through new technology and reorganization, is expanding its traditional role of helping students find summer and post-graduation employment.
Interdisciplinary / joint degree programs: Strengthening connections across disciplines
It's no secret that many, if not most, fields of employment are lying a bit fallow these days. If business graduates are finding the job search challenging, what can liberal arts majors do to boost their own prospects?
For one, they can capitalize on results of surveys that show employers value, and prospective entrepreneurs are served by, clear and cogent communication, critical thinking, cultural sophistication, comparative analysis, foreign language facility, historical perspective, creativity, political acumen and similar skills that are cultivated by the liberal arts and suited to a fluid global economy. For another, they can, as they do at Wake Forest, augment their liberal arts study with interdisciplinary courses and joint-degree programs for professional preparation.
For example, studio art and art history majors can prepare for graduate-level training in arts management or for jobs in the art world — as financial risk managers or directors of galleries, museums and auction houses — by enrolling in a course offered each spring by the business school. Co-taught each spring by Page Laughlin of the art department and Gordon McCray ('85) of the business faculty, the course combines instruction in the various business aspects of art markets with an immersive, week-long trip over spring break to New York, where students meet successful, well-connected art professionals in the city and discover the inner workings of the world's leading art marketplace. A sizable number of students who took the course has enrolled in graduate degree programs or landed prized internships or jobs in the field, according to McCray.
The Departments of Mathematics and Computer Science have partnered with the Schools of Business and the Department of Economics to offer to advanced students majors in mathematical business and mathematical economics, respectively. Each is designed as preparation for careers requiring sophisticated, model-based, advanced quantitative approaches to problem solving. The majors are described as extremely useful in today's complex global environment, in which business administration and public policy-making problems require intricate, mathematical analyses.
In the last couple of years alone, Wake Forest has added six jointdegree programs at the graduate and professional-school levels that meld the liberal arts and professions. Among them are master's programs in religion and law, documentary filmmaking and bioethics. The latter, whose faculty is drawn from disciplines ranging from medicine, the health sciences and law to philosophy and communication, is the inspiration for a proposed bioethics minor. And the graduate school of business has just completed the first year of its new Master of Arts in Management, a one-year program to prepare undergraduate liberal arts majors for entry-level positions in business.
Managua nexus / international initiatives: Deepening global ties
Perhaps the most practical expression of Wake Forest as a truly collegiate university — the linking of the undergraduate and the postgraduate and of the liberal arts and the professions — can be found not in Winston-Salem, but 1,780 miles due south in the capital city of the poorest country in the Western Hemisphere.
There, in Managua, Nicaragua, the University plans an impressive array of teaching, research and service programs ranging from entrepreneur mentoring and health training to conservation projects and cross-cultural communication. The College, the graduate school and the professional schools of law, business, medicine and divinity are all concentrating their specialties on projects aimed at bettering the lives of Nicaraguans while providing their faculties and students with exceptional international scholastic experiences and opportunities to practice Pro Humanitate.
Nicaragua Nexus, as the initiative is called, traces its origins to March of 2007, when 18 Babcock Graduate School of Management students spent spring break in Managua training entrepreneurs in basic, sustainable business practices for commerce. The project doubled in size the following year and has been conducted two or three times a year since. It so inspired Thomas A. Dingledine (MBA '78), now a University trustee, that he and his wife, Karyn, supported the effort through their Fund for Responsible Business and gave $2 million to acquire a large house (pictured below) in Managua that will serve as a training and conference center and headquarters for Wake Forest's various Nicaraguan projects.
At the encouragement of Provost Jill Tiefenthaler, and under the guidance of Associate Provost for International Affairs J. Kline Harrison, others across the University began to plan and implement Nicaraguan projects in 2007–08. In each of the past three summers, about 12 undergraduates have participated in three-week servicelearning programs in Nicaragua that combined service experiences with courses on health, communication, business and cultural topics taught by faculty from various departments. In spring 2009, the Department of Biology offered a course on tropical conservation that culminated in a week of field study in Nicaragua.
And these are only the start. In August 2009, representatives from the College and all of the graduate and professional schools visited the country to cultivate new relationships and potential partnerships with local businesses, service organizations and universities. An immediate outcome was a series of webinars the School of Law conducted on import/export law for the INCAE Business School in Managua. Other services down the road might include continuing education for medical professionals (medical school), seminars for professors on research methodologies (graduate school), and Nicaraguan fulfillment of the Graduate Certificate in Spirituality and Health awarded by the divinity school.
Elsewhere, the University this year started a summer servicelearning program in Ghana with a goal of offering its minor-in- African-Studies students what Harrison terms "a pan-West African experience." Wake Forest is also forging new partnerships with universities in Argentina and Chile.
Institutes and centers: Clearing the way for collaboration
Beyond the traditional boundaries of schools and departments, scholars at Wake Forest increasingly want to collaborate on topics of mutual interest or social importance. Thematic, interdisciplinary centers and institutes can serve as their meeting ground.
As part of its strategic plan adopted in 2008, the University established the center-institute process and allocated funds for planning grants. According to Mark Welker, associate provost for research and faculty affairs, both the centers and the institutes will facilitate creative activity on topics that cross disciplines and require team approaches. The primary distinction, he explains, is that centers will be funded for five years and institutes in perpetuity.
Five center proposals have received five-year funding. They are:
The Center for Bioethics, Health, and Society
Addresses ethical, social and policy issues of importance for biotechnology, health care, biomedical research and public health. The center encompasses all aspects of bioethics research and scholarship, from theory to policy to practice, and all relevant disciplines including philosophy and religion, life sciences, social sciences, medicine, arts, humanities and the professions.
The Translational Science Center
Promotes physical and cognitive health in the aged. Staffed by researchers from the behavioral, biochemical, psychological and physiological disciplines, the center seeks to develop individually tailored interventions and build new studies from observations of them.
The Center for Enterprise Research and Education
Concentrates on interdisciplinary entrepreneurship research, practice and education in developing countries. Staffed by scholars and specialists in cultural anthropology, economics, finance, entrepreneurship, microenterprise and comparative religion, it seeks the integration of traditional values and cultural and ecological sustainability with contemporary market opportunities and resources, beginning with a pilot project in Nicaragua and expanding to African nations.
The Center for Molecular Communication
Enlists researchers from biology, mathematics, chemistry, computer science, physics, biochemistry, health and exercise science, and a variety of departments in the School of Medicine to investigate the molecular mechanisms for communication between and within human cells, a topic with far-reaching implications for human health and the environment.
The Center for Energy, Environment, and Sustainability
Concentrates its efforts in three areas: renewable energy; biodiversity and environmental science; and environmental markets, enterprise, and policy. Among its inaugural investigations are new energy storage technologies (aided in its work by the Center for Nanotechnology and Molecular Materials) and carbon dynamics, a key to understanding the underlying dynamics of global warming.
To date, one institute — the Institute for Public Engagement
has been established. Its goals include fostering service to citizens and organizations; facilitating publicly engaged teaching and community-based research; and sustaining medical and legal clinics in the community. A diversified group of scholars in the arts and humanities — English, religion, women's and gender studies, and theatre, among others — have proposed the founding of a Humanities Institute to foster collaborative, multidisciplinary research on global topics such as human rights and popular culture and have applied for funding from the National Endowment for the Humanities.