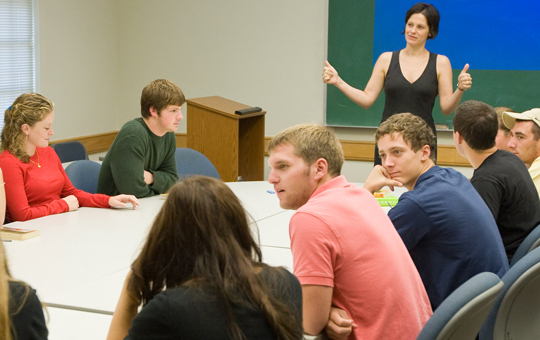 Honing communication and critical thinking skills
When Wake Forest incorporated a mandatory seminar for first-year students into its curriculum in the mid-nineties, its primary goal was to instill sound habits of critical thinking and clear oral and written communication skills at the outset of college. Instructors were given considerable latitude with regard to content, and in the program's twelve years of existence, many have taught idiosyncratic topics that otherwise might not have fit comfortably into the conventional course canon.
This year alone, first-year seminar subjects include the anthropology of piracy, the analytical methods of Sherlock Holmes, fallout shelters and the Cold War, the globalization of professional baseball, movies and metaphysics, and the art of the deal. Unconventional stuff to be sure, but that doesn't mean it's without legitimate academic value. Often, instructors choose their topics as illustrative of larger issues or as pathways into complex material that are more accessible to fledgling students. The Sherlock Holmes seminar, for example, uses the short stories and novels of Sir Arthur Conan Doyle as guides for development of the scientific skills of observation, deduction, and reporting. The baseball seminar uses the topic as a segue into issues of societal relevance, such as ethnicity and race, globalization, drug use, union activities, and federal antitrust legislation.
Following are profiles of six of this year's seminars, grouped according to two themes: metaphors of the monstrous, the marvelous, the mysterious, and the manufacturing of intelligence; and myths in nineteenth-century portrayals of men, women, and the West. Collectively, they reveal the creativity — and, yes, the unconventionality and idiosyncrasy — to be found in the program.