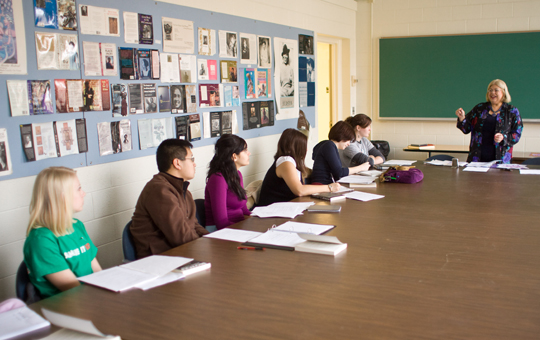 The monstrous and the meaning of the human
Although she is a medievalist by specialty, Wilson's English colleague, Gale Sigal, has routinely taught Paradise Lost, John Milton's epic 1667 poem about humanity's fall from grace. But while she admires the poem greatly, Sigal has never completely resonated with its portrayal of evil as a force apart from the natural order that was brought into the world by Satan and his minions.
"What interests me is the concept of an 'otherworld' where shades dwell in shadow and that intermingles with the real world," says Sigal, who is in her twentieth year on the Wake Forest faculty. "In moving from black-and-white presentations of evil to the more shaded, we can ask: What role do monsters play in our consciousness? What's the relationship between 'normality' and 'monstrosity'? In what ways does the monster help humanity define itself? Is the human sometimes monstrous? Who is the true 'monster' — the monster itself or its creator? How does knowing what is 'monstrous' in humans help us know and define what is good in them?"
Sigal and her students are probing these and other profound questions this spring in her first-year seminar titled "Otherworlds: The Monstrous and the Meaning of the Human." Through essays by thinkers like Freud and Joseph Campbell, medieval texts, artwork, and films such as Dr. Jekyll and Mr. Hyde, they explore the various manifestations of the marvelous and the monstrous that have captivated writers, artists, and thinkers since ancient times.
Sigal, who considers part of the seminar's purpose to be "a way of introducing medieval literature that is a little more accessible," traces her fascination with the monstrous at least in part to her scholarly interest in the medieval notion of courtly love — and, in a broader sense, to human identity and individuality.
"To classical writers like Ovid and Virgil, individual love was conceived of as a kind of disease or compulsion," she explains. "But in twelfth-century France the love of another began to be looked on as something that was ennobling or elevating. The knight would initiate a kind of lord-and-vassal relationship, in which the lady was lord and he was her inferior. His love of her, to his way of thinking, made him a better man.
"Courtly love was about the individualizing impulse," Sigal notes. "Because their love is private and secret, the bond between them alienates them from society. And when the couple separates from each other, they are truly alone, and their sense of separation is profound, as expressed, for example, in dawn songs [one of the earliest forms of secular romantic music in the West].
"Similarly, at the heart of the monster is loneliness, an overwhelming sense of alienation and separation from society," Sigal notes. "At the conclusion of Mary Shelley's novel, the monster that Frankenstein created, stranded in the Arctic, ruminates on loneliness. Likewise, in humans, loneliness can create a monster, or at least aberrant behavior. Is not conformity, after all, really about the fear of isolation?" In Sigal's view, monsters are potent metaphors for less desirable qualities in humans we might tend to ignore or shun but that deserve our scrutiny and sympathy. To encourage empathy in her students, she has assigned each of them to choose a different type of creature and become an expert on it — in a sense, to embody it.
"Looking at monsters is an opportunity to look beyond deformity and see what's really there in another," Sigal states. "How do we learn to deal with difference and distinguish between virtue and evil? In Shelley's novel, the real monster is the doctor, the parent, who rejects his creation, his child. It's the human monsters that are really scary. They're like us; they are us."