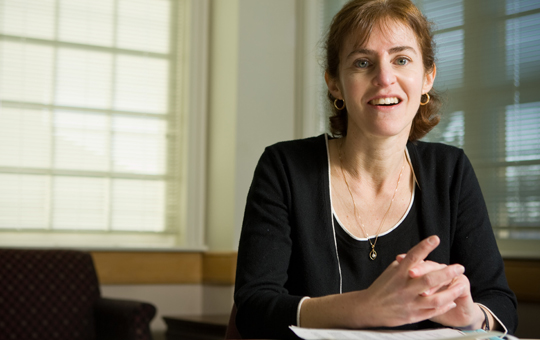 Assuming the role of detective, judge or psychoanalyst
Judging by her petite stature and her sweet and unassuming disposition, one wouldn't suppose the mysterious and the frightful would appeal to Elizabeth Anthony, a lecturer in French in the Department of Romance Languages. But "appeal" might be too weak to describe what seems more like mild obsession.
In addition to French crime stories, which she adores and teaches a course on, Anthony acknowledges feeling passionate about the films of Alfred Hitchcock and Henri-Georges Clouzot, the stories of Edgar Allan Poe and Robert Louis Stevenson, and other artistic expressions of things macabre, mysterious, and mad. She is conveying that passion to first-year students this semester in her seminar titled "Tales of Mystery and Imagination."
Anthony, who holds a doctorate in contemporary French theatre from UNC-Chapel Hill and has taught at Wake Forest for nine years, thinks the subject — beyond merely entertaining the students — will challenge their assumptions and modes of perception.
"The texts we'll be reading invite us to probe beyond perceived events," she says. "They require us to become careful and attentive readers as we assume the role of detective, judge, or psychoanalyst. And they beckon us to consider the choices the authors made when constructing their tales of mad scientists, scorned lovers, and supernatural events."
All is not as it seems at the boundary between the natural and supernatural worlds, according to Anthony. "Often, these stories are told as flashbacks by a first-person narrator, or as a framed narrative told by a third party," she notes. "You can search for rational explanations of the events that transpire, such as the narrator was crazy or drunk or that it was all a dream, or you can consider supernatural causes. Or perhaps the narrative is a metaphor, such as the belief by some critics that Mr. Hyde was Dr. Jekyll's homosexual alter ego, at least at the outset of the story. Whatever way one approaches the text requires careful reading, deduction, and analysis."
Besides a selection of short stories from the les contes fantastique ("tales of the fantastic") movement in nineteenth-century France featuring writers such as de Maupassant, Balzac, Mérimée, and Barbier d'Aurévilliers, the students will read Stevenson's The Strange Case of Dr. Jekyll and Mr. Hyde; short stories by Poe such as The Black Cat and The Gold Bug, and critical essays; and will view Clouzot's classic thriller Les Diaboliques and Hitchcock's Vertigo, Psycho, and Notorious. "There is very little lecturing in the seminar," Anthony says. "It's about the students expressing their own ideas clearly and coherently." An oral presentation and four short papers, one of which will be rewritten, are among the requirements.