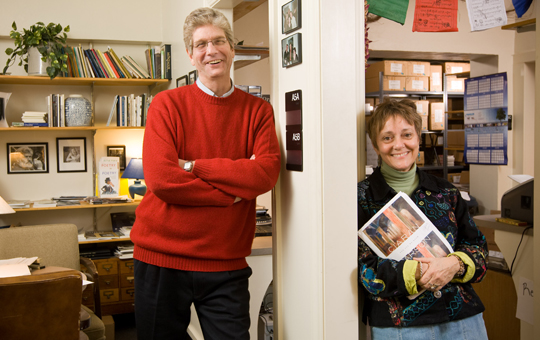 Necessity requires American editions of Irish poetry texts
The Press traces its origins to 1975, when Dillon Johnston, then a professor of English at Wake Forest, was compiling an article on Irish poetry for a literary journal. To his surprise, he could locate very few American editions of works by well-known Irish poets. The few that were available were either promoted poorly or periodically out of print.
Johnston's response was to become a publisher himself. Then-provost Edwin G. Wilson ('43) gave him his enthusiastic support and a generous annual subsidy to launch the enterprise, and the Irish literature scholar parlayed his redoubtable network of contacts in the North and the Republic into building an A-list of artists. Very much a hands-on editor, Johnston involved himself in all aspects of production and actively sought out promising young poets in the north and the south. One was Ciaran Carson. When Johnston found him out on a trip to Belfast, he didn't have a publisher. Johnston recommended him to publishers in Ireland and published him in America. The outcome: Belfast Confetti, Carson's tempestuous ode to his besieged home, won the prestigious Irish Times /Aer Lingus Literature Prize for Poetry in 1991 and established his enduring international reputation.
Johnston left Wake Forest in the late nineties to join his wife as a lecturer at Washington University in St. Louis, but he continued to look after the Press for a time and remains close to it today in an advisory capacity. His successor as director, Jefferson Holdridge, is an American scholar of Irish literature with an extensive professional editing and research portfolio who lived in Dublin for the better part of two decades, eventually earning his doctoral degree and teaching at University College Dublin. He was appointed to the directorship in 2002.