A supplement to Wake Forest Magazine

'Why I Believe in Wake Forest'
'Since I was 16 years old, my life has been so intertwined with Wake Forest that I cannot think of myself as other than a 'believer," writes Provost Emeritus Edwin G. Wilson ('43).

Opening Doors
Scholarships and financial aid open Wake Forest's doors to scores of deserving — and grateful — students. Meet Kristina Hanley, Carson Moseley, Evan Raleigh, and Ying Vang.

Brought to Light
Long-hidden letters enable professors Miki Felsenburg and Helga Welsh to unearth their own buried pasts and bond over a shared tragedy.

A Pioneer in Interdisciplinarity
Women's and gender studies has grown tremendously — in numbers of students, faculty, and scholarship — in its first three decades. Professors Mary Foskett and Perry Patterson and seniors Matt Triplett and Velvet Bryant describe the progress thus far and the challenges ahead in their own words.

The Rights Stuff
A commitment to clients, colleagues, and community has helped Ben Sutton ('80, JD '83) build a successful college athletics multimedia company.
University Celebrates 175th Anniversary
Professor of History Anthony Parent delivered this year's Convocation Address. The Medallion of Merit was presented to Richard Dean and Marvin Gentry ('57). Read Parent's remarks and watch a slide show of Convocation.

Worlds in the Making: A National Symposium
Wake Forest hosts a national symposium on creativity in March. Guest speaker David A. Edwards offers some tantalizing thoughts about creativity in this interview.
chemistry

Building the Nation's Premier Collegiate University
Wake Forest released its new strategic plan for the Reynolda Campus last fall. A series of white papers available only online describes each of the priorities.
Encouraging Women in Science
Associate Professor of Chemistry Rebecca Alexander is encouraging the next generation of female scientists.

Faculty Q&As
John McNally brings "dead Chicagoans" to life in his latest book, "Ghosts of Chicago." Paul Escott revisits Abraham Lincoln and Jefferson Davis. Alessandra Beasley Von Burg and students examine "juicy ethics" on the Internet.
'The Dream Realized?'
The day of the inauguration of President Barack Obama, faculty and students gathered in the Z. Smith Reynolds Library to discuss 'The Dream Realized? What Barack Obama's Election Means to America.' Read or watch their comments.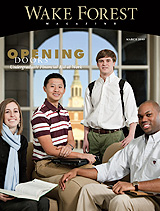 ON THE COVER: Opening Doors: Undergraduate Financial Aid at Work [PDF]