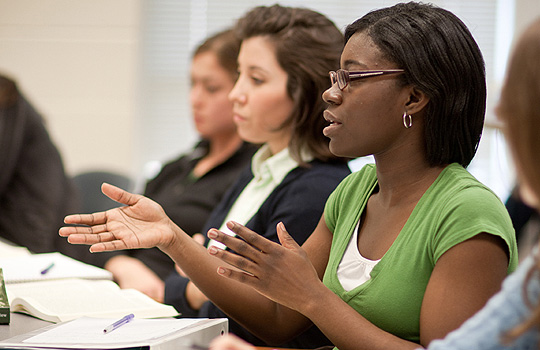 ---
Women's and Gender Studies: A Pioneer in Interdisciplinarity
Knowledge is different these days. Something is happening to the way we think about the way we think. Jane Thompson Klein, author of Interdisciplinarity: History, Theory, and Practice, contends that a "subtle restructuring of knowledge" is occurring in academia with words like "collaborative research," "team teaching," "permeability of boundaries," and "blurring and mixing of genres." While higher education wrestles with the social, intellectual, and political realities of this new way of thinking about thinking and faces the challenging demands of restructuring departments, hiring new faculty, and designing policies for faculty tenure and promotion, a quiet but potent exemplary model of interdisciplinary research and teaching has been occurring in Wake Forest's Women's and Gender Studies program.
Women's and Gender Studies, along with International Studies, are the two oldest interdisciplinary programs in the College. Now one of twenty interdisciplinary minors, Women's and Gender Studies, from its inception, has provided a model not only for collaborative research and teaching but also for the integration of theory and praxis, of aligning knowledge and action, now considered common standards for excellence in higher education.
The curriculum provides rigorous academic courses that promote the study of gender in all fields of inquiry, taught by faculty from various disciplines across the University, enriched by internships, service-learning opportunities, and advocacy training helping students translate learning into action. About thirty-five students have chosen a minor in the program this year.
Thirty-six years ago, a group of sixty faculty, administrators, and librarians gathered in Reynolda Hall, in response to a memo from Dean of Women Lu Leake:
"Compared to other areas of the country, the Wake Forest campus is extremely quiet regarding concerns of women." Leake wrote in 1973. "I am curious why this is so! From time to time I get inquiries from people within the University as well as outsiders about the proportion of women to men in the student body, percentage of faculty who are women, women's studies, affirmative action programs, ERA, areas of discrimination. Some of these I can give information about; some I cannot."
A call to action
In response to Leake's call for help, a Women's Study Committee was formed to discuss feminist pedagogy, scholarship, and advocacy for women across the University. The group, although new to the Wake Forest campus, was not unique in higher education at the time. In response to the women's movement of the early 1970s, women's studies were rapidly entering higher education as a distinct academic discipline. San Diego State University was the first in 1970 to add women's studies to their curriculum. Five years later, 150 programs in women's studies were developed, and by 1985, 300 programs were recorded in colleges and universities across the country.
Things were changing. Twenty women met monthly for two years, from 1973 – 1975, providing a supportive environment for one another, gathering information on affirmative action, and discussing campus inequities in salaries and faculty appointments. By 1975 a Committee on the Concerns of Wake Forest Women, directed by Rosemarie Anderson Patty in psychology, was in place to focus on job classification and salaries; women's studies programs; and career development of Wake Forest women. By 1982 the committee, with the leadership of Professor of Music Susan Borwick, established the early beginnings of the women's studies program at Wake Forest by proposing an interdisciplinary minor.
The interdisciplinary minor was approved in the spring of 1983 and included a newly created, four-credit course, "Humanities 121: Introduction to Women's Studies," and other courses in the humanities and social sciences. Faculty members representing many disciplines signed on, including Peggy Smith in art; Elizabeth Phillips, Nancy Cotton, Gillian Overing, and Andrew Ettin in English; Susan Borwick in music; Catherine Harris and Willie Pearson in sociology; Suzanne Reynolds (JD '77) in the School of Law; and Marianne Schubert in the counseling center.
Professor of English Mary DeShazer was hired as the first Women's Studies coordinator in 1987 and served the program for ten years. "Because the challenging task of getting the minor accepted by the University's Curriculum Committee had been accomplished by others, I faced primarily the exciting task of recruiting new minors and developing the interdisciplinary curriculum," DeShazer recalled. She created a program where rigorous academics were first priority and collaboration between faculty and students was standard. Professor of Education Linda Nielsen joined the program in 1991 and incorporated internships in to the program.
The program attracted twelve to fifteen minors per year in the early 1990s. New faculty were added, including Anne Boyle in English; Ulrike Wiethaus and Steve Boyd in religion; Sally Barbour in Romance languages; and Simone Caron and Sarah Watts in history. Courses in feminist theory, international women's movement, relationships between fathers and daughters, and gay and lesbian research were developed. DeShazer also reached out to the community, helping to establish the 1993 Commission on the Status of Women, leading efforts to increase the number of minority faculty and students.
The following decade was not as fruitful, with the program facing funding and leadership challenges. Borwick returned to lead the program in 1997; followed by Cheryl Leggon in sociology; Linda McKinnish Bridges (MBA '04), associate dean of the College; and Anne Boyle in English. A renewed commitment emerged, affirming that inter-disciplinary work is not easy, that bringing together disparate faculty with differing methodologies is a challenge, and that the struggle to create academic discourse, which is both collaborative, intellectually rigorous, and connected to practical and political ends, is absolutely essential for a vibrant collegiate community.
In the spring of 2003, with the leadership of Boyle, Women's Studies became Women's and Gender Studies, reflecting the more inclusive scope of the courses and the growing interest of participating faculty. "In the past five years," DeShazer notes, "WGS has conducted a highly successful program review, appointed six rotating faculty, formalized its governing structure and curricular offerings, and continued to attract many of Wake Forest's most talented students of diverse majors, including Rhodes and Truman scholarships recipients."
The program continues to benefit from the significant financial contributions of its two most ardent supporters: Professor Emerita of English Elizabeth Phillips, who died last June; and feminist activist Sylva Billue, who was killed in a tragic accident in 2007.
The future of women's and gender studies
Following a national search for program director in 2007, Wanda Balzano was appointed as the first full-time director of Women's and Gender Studies. Originally from Pompeii, Italy, Balzano brings an international focus and broad research competencies to the program. She received both a Master of Arts and a Ph.D. in Anglo-Irish Literature and Drama from University College Dublin, Ireland, focusing on Irish women writers and religion. She taught both in Ireland (in the Anglo-Irish Department at University College Dublin), and in Italy (in the Dipartimento di Anglistica at the Istituto Universitario Orientale of Naples).
She came to Wake Forest with seasoned experience in feminist discourse. In Ireland she worked with professors who were both feminist and activists, and she remains committed to the original mission of the program — "to provide an interdisciplinary program that brings together disparate faculty who use different methodologies; that struggles to be collaborative, rather than hierarchical; that is constantly challenged by demands that are not specifically academic, but personal and political, and that aspires to educate not just the mind, but to nurture the body and spirit."
Balzano and a core teaching faculty of six members who rotate every three years offer over twenty courses per semester, including "Introduction to Women and Gender Studies," "Women Poets," "Sexuality and the Law," "Gender in Society," "History of Chinese Women," "Race and Ethnic Diversity in America," "Feminist Political Thought," "Contemporary Families," and "Gender in Society." The faculty, drawn from the College and the schools of medicine, law, and divinity, are committed to researching, teaching, and writing about the connecting links between sociology, science, literature, religion, and the role of gender as well as translating that knowledge into action for the building of the community and the world.
Shannon Michelle Philmon ('07), who served as Student Government president in 2006 – 2007 and now directs the work of City Year — a non-profit organization that unites young people of all backgrounds for a year of full-time service with special focus on the high school dropout crisis — attributes her success in her work to the Women's and Gender Studies program. "I am able to more effectively identify the devastating barriers to success that young women face in this country, especially for young women from low-income backgrounds and of color. My education allows me to be proactive in addressing the challenges and serve as a voice to these young women who are disempowered. My activism is a direct result of the mentorship and encouragement I received from faculty and peers who taught me how to ask the right questions and gave me opportunities to volunteer and perform outreach to the Winston-Salem community."
As Wake Forest moves forward with the new strategic plan, shaping avenues for the production of knowledge from interdisciplinary centers and institutes, Women's and Gender Studies will provide an interesting organizational model, a model of teaching and learning that requires collaborative discourse and practical expression, a program aligned in both theory and praxis, a broad collection of knowledge that spreads throughout the disciplines of the college and the constellation of professional schools throughout the University.