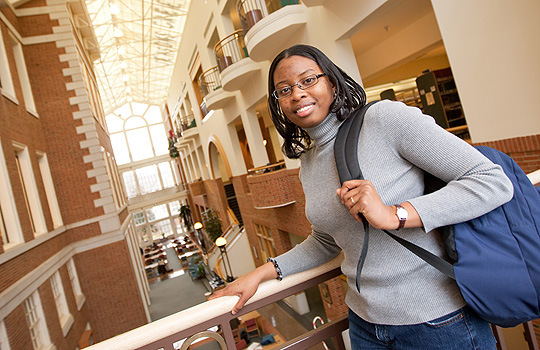 ---
Women's and gender issues have been intricately woven into the fabric of our society. Such issues can be viewed from a macro level that focuses on social institutions in the public domain as well as from a micro level that focuses on individual case studies. The Women's and Gender Studies program has strategically created an interdisciplinary curriculum that allows students to assess social issues from a feminist, sociological, literary, psychological, religious, and multicultural perspective.
As a WGS minor, I have learned the depth to which social issues are interrelated. Furthermore I have learned that effectively addressing the root of an issue, rather than a branch, can only be done through a collective effort.
One of the things that compelled me to become involved in the WGS program is that faculty members spend quality time getting to know their students and offering suggestions on how to achieve their academic and personal goals. Director Wanda Balzano and professor Mary DeShazer have both contributed to my academic success. As the student representative on the research committee, I have learned about the contributions WGS professors are making in their respective fields of interests. The faculty have made a valuable investment in my academic and personal growth, and I am compelled to maintain a mutual exchange by doing the same.
The program has been my avenue to learning more about social issues that interest me and to become more involved in the community. As a member of the Women's Fund of Winston-Salem, I have met influential women in the community and participated in the voting process that awards grants to programs that work to improve the lives of women and girls.
Patricia Willis, a WGS visiting professor, encouraged me to attend the U.S. Social Forum in Atlanta. This was a formative experience that connected me to other social activists and gave me a greater understanding of the social issues that plague communities in the United States, as well as what is being done to combat these distresses. Too often we are reminded of issues that separate us in the United States, and it was impressive to see so many people from different backgrounds and communities come together for the common edification of humanity.
Participating in the "From Campus to Congress Conference: Women of Color Creating Change," also contributed to my understanding of the needs of women and related to my passion to see women empowered. I was also given the opportunity to share my experiences with members of the WGS department at a faculty-student colloquium. Traveling to South Africa through the Mission of Good Hope Service Trip gave me the privilege to teach computer skills to women in Khayamandi and learn about initiatives that seek to empower women and their children.
I believe women's and gender issues have risen to the forefront of social consciousness. The term "women's and gender issues" does not refer solely to the struggles and injustices individuals have encountered. It also refers to the triumphs and advancements that have been made to improve our social well-being. We as a society have seen a greater prevalence of women in positions that yield upward social and economic mobility.
Today's society is confronted with the need to reassess and redefine gender as it undeniably shapes our social identities and interactions in multiple social institutions. Gender is not synonymous for women, but includes men and nontraditional gender identities. Women's and gender issues are linked to race and ethnic relations, socioeconomic status, public health, body image, and sexuality. The reality is that women's and gender issues have a direct and indirect impact on all individuals. Therefore it would be inadequate to discuss such issues only in relation to women.
The most productive conversations I have had have been with a diverse group of individuals; each offers valuable contributions to our discussion. As we further our understanding of the cultural environment in which we live, I believe we will see women's and gender issues evolve as our society continues to progress towards social equality for all.
Velvet Bryant, from Stokesdale, North Carolina, is a senior psychology major, with a minor in women's and gender studies. She receives financial support from the following scholarships: Cotman-Proctor, Ralph Judson Sykes, William Louis Poteat, and Merit Supplemental.