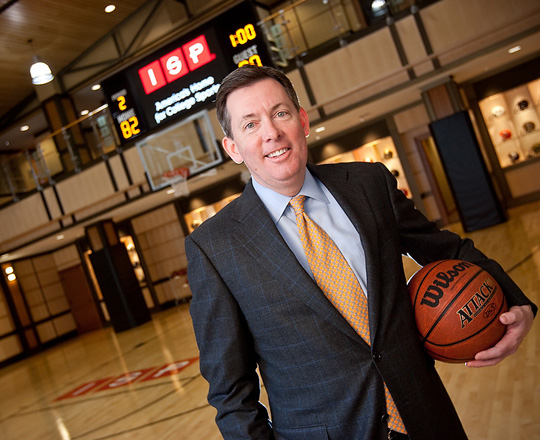 ---
A commitment to clients, colleagues, and community has helped Ben Sutton ('80, JD '83) build a successful college athletics multimedia company.
Story by Kerry King ('85)
Photo by Ken Bennett
When he was eight-years-old, Ben Sutton received a Christmas gift that foretold his life's work. "Christmas 1966, Santa Claus brought me a world-band radio. It was the first radio on which we could listen to a Wake Forest sports broadcast. I would sit outside on our porch on cold winter evenings—you could only hear the games at night—and listen to the Demon Deacons on the radio," recalls Sutton ('80, JD '83), who grew up in Murfreesboro, in eastern North Carolina. "I could pick up the Red Sox on WBZ in Boston, too, and I became a Red Sox fan. But I became even more passionate about Wake Forest."
It's hard to imagine a time when a young boy could be so excited about listening to games from somewhere as far away as Boston—or Winston-Salem for that matter, praying that the signal would hold out until Gene Overby's final "bottoms!" call as a Demon Deacon swished another jumper.
Sutton didn't grow up wanting to be Overby—he wanted to be the player making the shots. While a career playing sports wasn't in his future, today he calls the shots at ISP Sports, the largest and fastest-growing college athletics multi-media company in the country.
"I'm here because of Wake Forest. I'll never forget that or break that bond. But for Wake Forest's confidence and trust and belief in me, there isn't an ISP."

Ben Sutton
He's come a long way since leaving Wake Forest's sports marketing office in 1992 and starting what was then called International Sports Properties. It was a rather audacious name, he admits, for a company that had exactly one property—Wake Forest—and operated out of a second-floor office above the Village Soda Shop in Reynolda Village in what had once been a dairy barn on the R.J. Reynolds' estate.
"I'm here because of Wake Forest," says Sutton, chairman of the board and CEO of ISP, headquartered in downtown Winston-Salem. "I'll never forget that or break that bond. But for Wake Forest's confidence and trust and belief in me, there isn't an ISP."
The concept behind ISP was simple, even though no one else was doing it at the time. Universities such as Wake Forest sold their commercial sports marketing rights—radio play-by-play broadcasts, coaches' television shows, game day publications, signage, and promotions—piecemeal to various sponsors and promoters. Sutton's bold idea: what if one company bought all of a university's sports marketing rights and packaged them together to sell to sponsors?
Initially, he took on clients in and out of college sports, including the Vantage PGA Championship in Tanglewood Park in nearby Clemmons, to pay the bills. In 1994, ISP landed its second collegiate property, future ACC member Virginia Tech, and several years later signed up Marshall, Alabama, and Georgia Tech. The company quickly outgrew the Reynolda Village office space and moved to offices on Knollwood Street and then Country Club Road before moving to its current location on North Trade Street in 2007.
A passion for college athletics
"At the seven-or eight-year mark, it was clear that my passion and our team's passion was really college sports," Sutton said of the decision to focus entirely on collegiate athletics. "You can look around and see the horror stories in the NFL and the NBA, and here's the difference with college sports: 99.9 percent of the kids play for the name on the front of the jersey, not the name on the back. So many of those kids, were it not for the investment of alumni, fans who buy tickets, and companies that buy sponsorships, many of them would never have a college experience. I've known thousands of student-athletes; the majority come to get a great education and further their life opportunities. You can't create that environment or feeling in professional sports."
The company's name was shortened to ISP in 2000 (the longer name was a mouthful on the radio, Sutton explains) and the company began billing itself as "America's Home for College Sports." It's hard to argue with that: ISP has partnerships with more than 50 colleges (including seven of the twelve ACC schools); five conferences (including the ACC and the Big East); three bowl games (Fed Ex Orange, Meineke Care Care, and Motor City); and two arenas (Winston-Salem's Lawrence Joel Veterans Memorial Coliseum and the Greensboro Coliseum Complex).
Wake Forest fans, of course, know ISP from its radio broadcasts of Deacon football, basketball, and baseball games. Fans of Auburn and Notre Dame and UNLV also hear their team's games on the ISP Sports Network, which includes more than 1,000 radio affiliates in 49 of the nation's top 50 media markets. ISP also produces television programming, game promotions and programs, and stadium and arena signage for its collegiate partners.
Sutton has built his line-up of clients the old-fashioned way: by building relationships with ISP's colleges and universities, advertisers, and sponsors. "If you really believe that relationships are the key, then you have to surround yourself with people who share that belief," he says. "In the 17 years we've been in business, we've never had an institution terminate its relationship with us. That's unparalleled in this business."
Sutton and his family live in Winston-Salem. He travels two to three days a week, but he remains firmly committed to the community. (He went to 25 football games, including bowl games, last fall.) He encourages his employees to be active in the community, too, whether it's supporting the United Way or helping build a house for Habitat for Humanity.
"It is important, to the point of being vital, for our team to be involved in the community," says Sutton, who serves on Wake Forest's Board of Trustees and on the board of the Winston-Salem Alliance, an economic development group. "We have so many talented, bright people, and as a company that has proudly created over 300 jobs 'from scratch,' with over 75 of those jobs being right here in Winston-Salem, it is important that we seek leadership and volunteer opportunities for them. This place (Winston-Salem) has been nurturing and important to our growth and development and we have a responsibility to build and invest social capital back into our community."
In 2007, ISP made a major commitment to Winston-Salem—and downtown revitalization—by developing a five-story, 125,000 square-foot mixed-used office, retail, and condominium building on North Trade Street for the company's headquarters. Inside the front doors is a half-size basketball court, modeled after the Milan High School gym in the movie Hoosiers. A scoreboard permanently displays "Home 82" "Guest 80," a tribute to Wake Forest's victory over North Carolina in the 1995 ACC Championship game.
Display cases hold football helmets from ISP's collegiate partners. An electronic message board scrolls through the logos of all those schools in alphabetical order, from the University of Akron to Washington State; you have to stand there for a good while before Wake Forest's familiar WF athletics logo finally flashes by.
Growing up a Demon Deacon
Sutton grew up in a Wake Forest family. His father, Ben Sr., mother, Minnie, and his mother's father, Douglas Branch, all attended Wake Forest. (Branch ('37), a Baptist minister, served as chairman of the University's Board of Trustees.) Ben Sutton Sr. ('56) worked as chief financial officer at three colleges, most recently Greensboro College, before going to work with his son. He oversaw the construction of ISP's headquarters and still works there several days a week. Sutton recently established a Wake Forest scholarship in his father's name for students from North Carolina.
Sutton played basketball and baseball in high school but pursued other interests at Wake Forest. He was the "mike man," who led the cheers at Wake Forest's home football games in 1978 and 1979—the Tangerine Bowl year and the last year before the costumed Deacon first appeared. He also worked in Wake Forest's alumni office and then in the athletic department. After graduating from law school, he went to work in the athletic department full-time, working with then-athletics director Gene Hooks ('50) on television agreements for football and basketball games, and later moving into marketing and fund-raising work as an assistant athletic director.
The genesis for ISP came in the years that he worked in sports marketing at Wake Forest. "We went through a succession of radio and TV rights holders who struggled financially and/or operationally, so we began to move those rights in-house," he recalled. "We slowly began to have some reasonable modicum of success selling and producing programming, but it was still a struggle having just one university client. So then I started thinking about outsourcing. It seemed to me that if you could aggregate the rights for several schools in one region, you could really improve the financial opportunities for that group of schools by reaching a new group of regional advertisers. And ultimately, if you built your network expansively, you could even access a national advertising network pool—what we are able to do today."
Sutton credits a number of people at Wake Forest with supporting his decision to start ISP, including Hooks; the late President Emeritus Thomas K. Hearn Jr.; now retired vice presidents Leon Corbett ('59, JD '61, P '96) and John Anderson (MAEd '00); and Associate Professor of Management Bern Beatty (P '88). When he made the short move from Wake Forest—one of his first offices was in the old ticket office vault in Reynolds Gym—down Reynolda Road to Reynolda Village, he brought Mac McDonald, at the time Voice of the Demon Deacons, and Bill Merrifield ('91), then in the sports marketing department, with him. Merrifield, like most of Sutton's first hires, is still with him.
ISP now has more than 300 full-time and 100 part-time employees in 65 offices in 35 states; many of those offices are on the campuses of ISP's collegiate partners. Sutton stresses extensive training for new and continuing employees and even personal and life enrichment programming. "If you believe people are your number one asset, and I do, then one of the most important investments our company can make is building and developing our team," he says. One of his highest-ranking employees is "Chief People Officer" and director of the ISP Sports Academy, a professional development and personal enrichment initiative for employees. Training magazine recently recognized ISP as one of the top 125 companies in the country for professional development.
ISP has expanded rapidly since 2005, adding more than 30 schools and expanding its footprint from the east coast and central states to the west coast by adding UCLA, Washington, Washington State, and Cal to its roster. On a busy basketball night or a football Saturday, ISP can air as many as 50 games at the same time from its Trade Street broadcasting studios.
Sutton expects ISP to continue to grow by remaining true to what's gotten the company this far. "It is important that we stay true to the core values of integrity, excellence, family, and passion that brought us to this place. Our mantra, 'to do the right thing, the right way, at the right time' must never change."