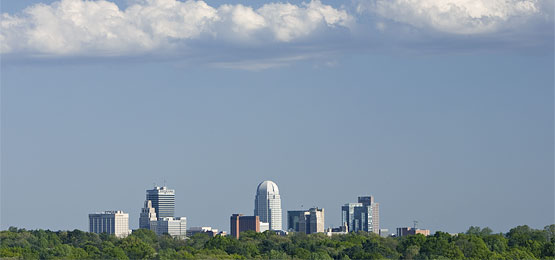 ---
For many alumni, life is better back in Winston-Salem.
By Kerry M. King ('85)
With their degrees in hand, most members of Wake Forest's Class of '07 will head far from Winston-Salem to make their fame and fortune. Few newly minted alumni remain in the Twin City, and many of those that do attend graduate or professional school rather than start their careers here.
But at some point, as the years pass, the old college town starts looking better and better, and many return. About 12 percent of Wake Forest's undergraduate alumni — almost 6,100 — live in Forsyth County.
Alumni moving back from New York, San Francisco and Atlanta in recent years have discovered that there's no place like the "dash" (or the "hyphen," depending on which term you prefer), and nothing better than reconnecting with your alma mater.
"Overall, it's just great to be at the heart of Deaconland," is how one describes making his home in the city Wake Forest has called home for 50 years.