David Valliere ('95) found Ann Arbor, Mich., too cold and Dallas, Texas, too hot, but he's found Winston-Salem to be just the right place for his family, and not just because of the weather. "I can't imagine a better place to raise a family — great schools, lots of parks and an amazing cost of living," said Valliere, who lives just outside Winston-Salem, in Clemmons, with his wife, Sarah, and sons, Alex, 3, and Ben, 1. "This is my fourth stop since graduating, and this is easily our favorite place to live."
Valliere has lived all over the country; his father was a salesman and his family moved frequently when he was growing up, from Michigan to the midwest to Boston to Atlanta. "Having lived all over the country as a child and as an adult and having experienced different areas, I really appreciate this area," he said, "and know this is where I want to be long-term."
A finance major at Wake Forest, Valliere worked in Charlotte for a few years before pursuing his MBA at the University of Michigan in Ann Arbor, then worked at Frito-Lay in Dallas for several years.
In 2004, he saw an opening for a position in marketing at one of Winston-Salem's most iconic companies, Hanesbrands. "The move was job-driven, but the location was certainly a bonus," he said. "The downside (of moving from a larger city) may be if you're looking for something super specific and looking for ten choices, but we've found everything that we've looked for here."
— Kerry M. King ('85)
Office of Creative Services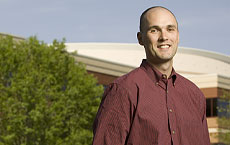 Top five things you like about living in Winston-Salem:
Great weather
Excellent school system
Cost of living
Access to Wake Forest sports
Affordable, year-round golf choices
Favorite college hangout you've rediscovered: Mountain Fried Chicken
Favorite new hangout: The Loop
Best Wake Forest connection since you've been back: Learning a freshman year suitemate, Brent Wooten ('95), worked in my group at Hanesbrands.