While some alumni move to Winston-Salem to get away from the "big city," McLain ('85, JD '88) and Marybeth Sutton ('86) Wallace made the opposite decision, moving back from a small town in eastern North Carolina. "Because we had been students here and had such good memories and loved this campus and loved the city, it really was the only place we would consider pulling up roots and moving," Marybeth said. "The quality of life in Winston is pretty unbeatable. You get all the attributes of a larger metropolitan area."
Marybeth — originally from Richmond, Ky.— and McLain — originally from Buies Creek, N.C. — had lived the last 16 years in Rocky Mount, N.C., about three hours east of Winston-Salem. Marybeth wrote grant proposals and taught freshman composition at North Carolina Wesleyan College. McLain was a partner with Battle, Winslow, Scott & Wiley, where he was general counsel for Nash Health Care Systems. Two years ago, he was named general counsel at North Carolina Baptist Hospital. "I very much liked representing the hospital in Rocky Mount, so Baptist Hospital was one of the few hospitals I would have considered joining in-house, largely because of the Wake Forest connection," McLain said. Marybeth has since renewed her own ties with Wake Forest and works on special projects for President Hatch.
The move presented more educational, athletic and cultural opportunities for their daughters, Catherine Stuart, 14, and Elizabeth, 11, than they could have found in a smaller city. "The girls have had amazing teachers and some unique opportunities in the schools," Marybeth said. "It's stunning to me the possibilities, just at Wake Forest, from hearing Supreme Court justices speak, to a Chinese New Year Celebration, to the Irish Festival. I don't know of any other city where you can watch NCAA Championship field hockey and 10 minutes later be at the Stevens Center for la Boheme."
The biggest change since they left Winston-Salem 20 years ago has been the revitalization of downtown, where they enjoy music festivals, art galleries and the many new restaurants. They bought a home close enough to campus that they can walk or bike to campus or Reynolda Gardens and Reynolda Village.
"There's something very familiar to ride by and see Wait Chapel," McLain says. "The first year I was here, I would be riding down the road and it would hit me, I'm not just here for a ballgame and have to drive back to Rocky Mount. It's now struck me that this is where we live."
— Kerry M. King ('85)
Office of Creative Services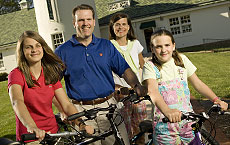 Top five things you like about living in Winston-Salem:
Being close to Wake Forest
Winston-Salem/Forsyth County Schools
Arts, N.C. Symphony, School of the Arts, Piedmont Opera, Little Theatre ACT for Youth
Field hockey
Village Tavern Key Lime Pie
Favorite college hangout you've rediscovered: Reynolda Gardens
Favorite college hangout that you miss the most: "Our girls never got to see the double-decker bus inside Darryl's"
Best Wake Forest connection since you've been back: McLain: Deacon football and haircuts by Lloyd (Howard, in the on-campus barber shop); Marybeth: reconnecting with Ed Wilson ('43)