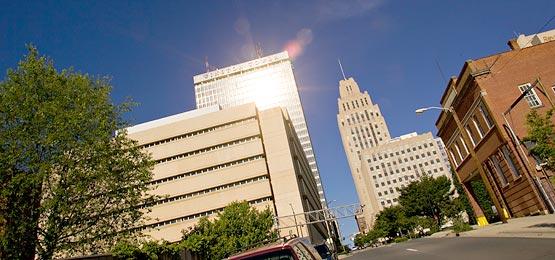 By Kim Underwood
If your idea of a big night on the town is stopping by Krispy Kreme for a couple of fresh, glazed doughnuts, well, Winston-Salem has been your kind of town all along.
If your idea of excitement requires something a touch more exotic, say, dinner at a downtown Thai restaurant followed by taking in a band at a bar housed in what was once an industrial garage, it's true that things have looked pretty bleak in Winston-Salem at times.
And, some days, it has felt as if the local economy was wobbly in the knees like a boxer who had taken one too many blows to the head.
But not these days. We have most of the amenities of a big city without most of the nuisances, and the economy is sound.
When I moved back to Winston-Salem in 1985 — after getting out of town as quickly as I could after graduating from high school in 1971 — it was as if I were traveling back in time. Mundane treats such as fresh bagels that I took for granted in San Francisco were maddeningly troublesome to come by here.
And, in the years that followed, it began to look as if home-grown businesses were cursed and the day might come when it was time to put up a billboard that read "Would the last person leaving please turn out the lights?"
By 1985, Hanes had already been taken over by a company known for its cheesecake. The big blow, though, came after R.J. Reynolds Tobacco Co. supposedly took over Nabisco. The next thing we knew, Nabisco executives had staged a coup, and F. Ross Johnson was using "bucolic" as if that were a bad word as he moved the company out of town in 1987.
That same year, we watched USAir (now USAirways) envelop Piedmont Airlines. Its executives brandished the word "efficiency" in a way that made it clear that Piedmont's reputation for Southern hospitality was of only marginal interest to them. Next, we pinned our hopes on Wachovia as we watched it become a major national bank-despite having a name that newcomers invariably pronounce wrong-only to go through the ordeal of a "merger" that was really a takeover and that sent its headquarters to Charlotte.
When people across the country started lining up under the "Hot Doughnuts Now" signs, we thought, "Woo-hoo! This time it's going to be different."
Poor Krispy Kreme, it no longer looked as if it would be building its new headquarters on the corner of Fourth and Broad streets — where people used to buy their Chevrolets — after the Securities and Exchange Commission started muttering about accounting irregularities in 2004.
There have been smaller losses, too. In a blow particularly devastating to Wake Forest University students who believe that an ice-cold mug is essential to enjoying a beer, the man with the hatchet stopped chasing the pig after the owners of Simos Barbecue called it quits. Thank goodness, J.S. Pulliam Barbecue is still around.
But, lo and behold, positive developments were taking place at the same time as these reversals. For one, Wake Forest was growing up. Its medical center established a national presence on its way to becoming one of Winston-Salem's major employers. And the university expanded its reach in other ways as it turned Graylyn into a conference center and took responsibility for Reynolda House Museum of American Art.
Other educational and medical institutions — including N.C. School of the Arts, Salem College, Winston-Salem State University, Forsyth Medical Center — also matured. Reynolds came back home. Wachovia kept more of a presence here than we first thought, and enough other businesses thrived to keep the local economy on its feet.
As for downtown Winston-Salem, gone forever is the world familiar to those who grew up here in the 1950s and '60s, when Sears and other major department stores shared Fourth Street with movie theaters, eateries, Dewey's bakery and such local businesses as George's Hobby Shop.
The owner of one restaurant pegged downtown's demise to young people starting to have cars of their own. Certainly, the rise of shopping centers had much to do with it. When Sears and other stores left downtown for Hanes Mall when it opened in 1975, that was pretty much that. Thank goodness, Sears gave the wonderful Nativity that once stood on its roof at the holidays to the Children's Home so we can still enjoy it at the holidays.
During the Dark Ages of Downtown came some notable missteps, such as the Trade Street pedestrian mall. But by the mid-1980s, distinctly encouraging signs were emerging. Artists and others in the Sixth and Trade neighborhood were putting together the beginnings of an arts district. Sure, you had to squint a little when walking by the derelict buildings in between the studios so that your fantasy of a being in a bustling big city didn't fall apart. But it was clear that something real was going on. Today, Trade Street is fully developed, and people have moved on to fixing up buildings on Liberty Street.
In the mid-1980s, the music scene didn't extend far beyond Baity Street where you could find such places as Ziggy's — little more than a small house with a deck out back then. These days, downtown is home to places such as The Garage where music can be heard on any given night. Plus, during the warm months, a lively downtown music program provides three nights of music a week.
And the dearth of big-city amenities is no more. A friend who moved here in 1969 was appalled to discover that there was not a single, solitary Chinese restaurant to be found in all of Winston-Salem. Now, with all the foreign-cuisine and fine-dining restaurants, you would have to go out of your way to find something to complain about. What? No Ethiopian restaurant? Coffee aficionados can choose among such local coffee shops as Chelsee's and Sin or go with a national chain.
So many old buildings are being converted into lofts and apartments and so many new ones are being built from scratch, including one at the Modern Chevrolet site where Krispy Kreme had big plans, that you can't help but wonder where all the people to live in them are going to come from.
The Piedmont Triad Research Park is quickly establishing itself as a center for pioneering research and product development and is putting downtown on the world's biotechnology map.
And the definition of downtown has been extended to include the western edge of downtown where a new baseball stadium is planned for the Warthogs.
In other important respects, Winston-Salem hasn't changed at all. Those of us who have come back now appreciate traits that either we hadn't noticed or didn't care about when we were younger. Here, you can buy a house for a price that, in some cities, would get you nothing more than the box a refrigerator came in. And, when I left, I had no idea that I would one day find acres of free parking so exciting.
What I have come to appreciate most is how warm people around here are. Really, if it weren't for the debilitating humidity awaiting us later this summer, we would have it made.