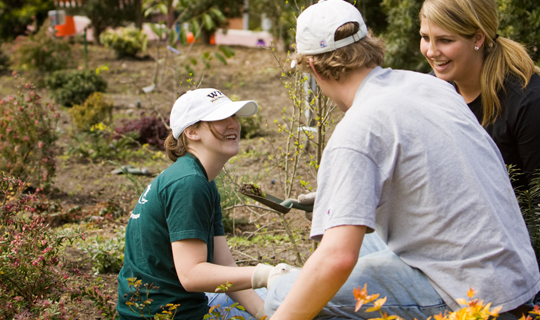 Students spend spring break helping others
Alternative spring break makes service a priority
Alternative spring breaks have been gaining popularity in recent years on campuses across the nation. Most entail service in impoverished or otherwise disadvantaged areas here and abroad. Besides New Orleans, groups sponsored by the Student Life Office tutored high school students in Stevens, Arkansas, as they prepped for their college entrance tests.
With student interest in civic engagement and volunteering on the upswing, participation can be competitive. More than forty students applied for the New Orleans slots, which were restricted by the housing that would be available in the city. Participants were chosen through an interview process to determine their motives, the extent of their civic and campus involvements, and their vocational reflections and aspirations.
Helping in unexpected ways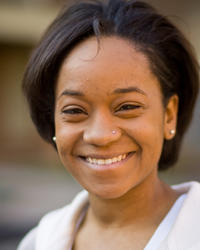 Relief Spark, a New Orleans-based volunteer clearinghouse organization that provided its housing and assigned and oversaw its work, split the group its first morning on the job, assigning half the students to a community center in devastated St. Bernard Parish and the other half to City Park, one of America's largest urban parks which had been covered by brackish water. The park group was assigned to pull weeds and dead plants at the popular Botanical Garden so that new flora could be planted and admission charged to generate revenue for other park restoration projects.
Later, the park group reunited with its other half at the Community Center of St. Bernard, just downriver from the Lower Ninth Ward. The center, which is sponsored by a coalition of more than thirty nonprofit organizations, provides, at no cost to the parish's eroded population, clothing, non-perishable food products, telephone service, Internet access, various counseling services, and, perhaps most importantly, a welcoming place to gather with others in similar circumstances. The students spent most of their stay there, sorting clothing, stocking food shelves, cooking the daily noon meal, and spending time with the dispossessed and sometimes desperate people who came and went.
A learning experience
"The trip was a trying experience for all of us, I think," said trip leader sophomore Devin Cowens after their return. "The damage seemed worse than we expected, partly because of the time that has passed since the hurricane. I think some of us thought that more would have been accomplished. And there were many aspects of our schedule that were out of our control and required on-the-spot adjustments.
"But then we talked about how we could bring our experience back to Wake Forest and become delegates on behalf of New Orleans," she continued. "And we can look back and see how we had stayed positive, flexible, and cohesive as a group. It was definitely a positive experience, and we are definitely thinking about returning next year."
Adapted from "Against the Wind" by David Fyten
(June 2008 issue)
Web content by Kim McGrath
Photos by Ken Bennett
---
Students on the service trip to New Orleans blogged about their experience.
Read about their trip.
---
Students also traveled to Stephens, Ark., during spring break to volunteer at the local high school.
---
Full New Orleans articles:
Student volunteers Rebuilding and serving [PDF]
Connections Wake Forest in New Orleans [PDF]
---

"New Orleans offered us a window on the world of human need," says trip co-leader sophomore Katharine Wesley. "We were welcomed by Wake Forest alumni in New Orleans who cared for us as we cared for others. My Wake Forest family extends far beyond Winston-Salem."
Read Katharine's blog entries »
---
Alumni in New Orleans
---
Wake Forest Admissions: