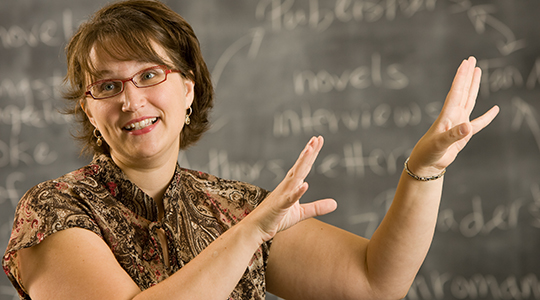 Connecting popular culture and contemporary religious life
Assistant Professor of Religion Lynn Neal and her first-year seminar students spent a semester exploring the relationship between religion and popular culture in contemporary American life.
"Our challenge was to take a "fun" topic seriously," says Neal. "The class examined surprising manifestations of religious life made possible through popular culture. From Simpson spirituality to Christian romance novels to the myth-making of professional wrestling, students investigated three dominant patterns: religion in popular culture, popular culture in religion and popular culture as religion.
As part of the seminar, students formed three groups and made final presentations incorporating what they had learned throughout the semester. One presentation discussed Facebook as a religion, another discussed religion on South Park, and the third addressed Oprah as a religion.
---
Listen: Facebook as a Religion audio » 14 min.
Listen: Oprah as a Religion audio » 14 min.
Watch: Video clips from the Surprising Spirituality seminar » 4 min.