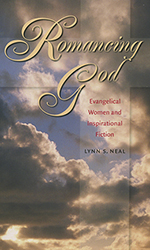 By Lynn Neal
Assistant Professor of Religion Lynn Neal recently published "Romancing God: Evangelical Women and Inspirational Fiction," a study on what makes the Christian romance novel popular and how it reflects contemporary religious beliefs.
This is not the book I thought I would write, but it became the story I had to tell. As I spent thirteen months interviewing fifty readers and twenty authors, plots and prescriptions remained important parts of the tale, but the evangelical women with whom I spoke became the central characters…They dominate the pages of the novels as well as the authorship and readership of the genre. This study, then, is about how these women interpret their reading practices in relation to their religious lives–their fictional devotion.
This is thus a study of evangelical women's devotional lives, of the ways romantic fiction both configures and reflects their daily practice of religion….In this view, popular culture in general and evangelical romances in particular are neither radical nor revolutionary; rather they contain both regressive and progressive elements….Through examining these women's stories, the intersection of religion, reading, and daily life becomes visible. Amidst the demands of ordinary life or a challenge to faith, the genre offers a respite from problems and a time for fun, as well as a means to cultivate piety.
Romancing God: Evangelical Women and Inspirational Fiction
Chapter One: The History of Evangelical Romance
Explores the historical emergence of evangelicalism's relationship with the media
Chapter Two: The Discipline of Fun
Examines the ways evangelical gender ideology shapes views of leisure and fun
Chapter Three: The Evaluation of Romance
Examines the diverse interpretive schemes and narrative expectations employed by women readers
Chapter Four: The Ministry of Romantic Fiction
Considers the consensus between authors and readers on framing evangelical romance as ministry
Chapter Five: The Fashioning of Faith
Investigates the ways that women's identification with and inspiration by the heroine elicits the readers' spiritual maintenance and growth
Chapter Six: The Romance of God
Reveals the ways evangelical romances invoke larger historical and sacred narratives
From "Romancing God: Evangelical Women and Inspirational Fiction" by Lynn S. Neal. Copyright (c) 2006 by the University of North Carolina Press. uncpress.org