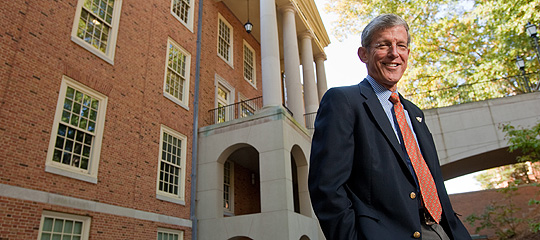 ---
The dean of Wake Forest's newly integrated schools of business brings redoubtable credentials and compassion to his self-stated pursuit of helping students find their 'calling' in life.
By David Fyten
These days, Steve Reinemund cuts quite a figure. Tall and lean, with chiseled features and piercing eyes befitting a Marine officer or the chairman and chief executive officer of a Fortune 500 corporation (both of which he has been) and dressed in silk tie, tailored slacks, and monogrammed Oxford, the dean of the newly integrated schools of business at Wake Forest University strides with a kind of conscious cadence around his carefully appointed office, gracious and gregarious yet very much in command of the environment and the situation.
But there was a time when this imposing leader was just a boy without a sport coat, apprehensively awaiting his appearance before an assembly of classmates. What happened then, as much as any single event in his life, helped shape his core beliefs about people, purpose, and personal responsibility, and predicts the kind of dean he will be and the kind of place the business schools will become under his stewardship.
On July 1, Reinemund, a former PepsiCo chairman and CEO who was widely praised as one of the nation's most innovative and respected business leaders, assumed the deanship of the University's two business schools — the Babcock Graduate School of Management and the undergraduate Calloway School of Business and Accountancy — with the mission of facilitating their integration.
Historically, the schools have been administratively separate, with their own deans. The goal of their consolidation is to leverage their distinctive strengths, promote collaboration in teaching and scholarship, fashion new opportunities for students to achieve their full personal as well as professional potential, and weave the business education component more integrally and seamlessly into the greater cultural fabric of the University.
He certainly brings an impressive cache of experience and talent to the task at hand. Over the course of his twenty-three year career at PepsiCo, he served as CEO of its Pizza Hut division (now part of another company), as head of Frito-Lay's North American snack division and as CEO of its worldwide operations, and as corporate president and chief operating officer from 1999 to 2001, when he was named chairman and CEO.
During his five-year tenure in the top post from 2001 to 2006, PepsiCo's revenues increased by more than $9 billion, net income increased by 70 percent, earnings per share increased by 80 percent, its annual dividend doubled, and the company's market capitalization surpassed $100 billion.
Twice, Barron's named him to its "World's Most Respected CEOs" list and Business Week twice included him in its annual listing of the nation's "Top Twenty-Five Managers." He stepped down as CEO in fall 2006, remaining as chairman until his retirement in spring 2007.
Provost Jill M. Tiefenthaler, who chaired the committee that recommended his appointment unanimously, describes Reinemund as a "difference maker" who, in accepting the position, perceived fulfillment in making a difference in the lives of students, helping build "an even better Wake Forest," and helping shape business education nationally.
"Steve is many things: an outstanding manager; a strategist; a visionary," she noted. "But what impresses me the most about him is that he is a learner. He knows a lot, and we have a lot to learn from him. Yet he also knows what he doesn't know, and he wants to learn it. Learning means listening, and he is an excellent listener."
The accolades with which Reinemund was showered at PepsiCo were not only for his business acumen. Business Week wrote that "his greatest achievement is in developing people," noting that he personally mentored and trained staff and required that everyone in the company's senior ranks do likewise. He was especially recognized for his campaign to bring diversity to PepsiCo, garnering "The Man Who Did the Most for Women" Award from the National Council for Research on Women; the National Equal Justice Award from the NAACP Legal Defense Fund; and the President's Award from the National Council of La Raza.
Upon his retirement, PepsiCo established the Reinemund Diversity and Inclusion Legacy Award to recognize persons within the corporation who make "consistent and significant contributions toward fostering diversity and inclusion at PepsiCo and in the community."
Guided by Values
"Steve is a person who has been guided by a set of values and commitments that are remarkably similar for both his professional life and his personal life," says President Nathan O. Hatch, who has known Reinemund well since their tenure together on the national board of the Salvation Army in the nineties. "He is a mentor who takes that role seriously. On a recent Saturday morning, for example, he spent a good deal of time with a young Wake Forest graduate, one-on-one, trying to assist that student to find his way in the business world.
"Steve deeply believes that a diverse workplace and educational environment benefits everyone," Hatch continues, "making sure that everyone receives the same opportunity to succeed and prosper, whether that be in the workplace, in the classroom, or the community. Like mentoring, the building of a place that embraces and provides avenues for opportunity speaks to Wake Forest's most cherished and traditional values.
"Steve also is a great listener and a constant learner," Hatch observes. "He will transform [business] education at Wake Forest, to be sure, but not by imposing some predetermined model. A new one will grow organically from the faculty and be rooted in the needs and aspirations of students. His collaborative spirit is what distinguishes Steve's leadership and will ensure that his legacy will be significant and enduring."
In his few months at Wake Forest, Reinemund already has demonstrated not only a rare talent for guiding complex and delicate organizational changes but also that penchant for inclusion, openness, and collaboration. To avoid giving any impression of dominance by or favoritism toward either of the schools, he studiously divides his time between his offices in the Wayne Calloway Center (home of the Calloway School) and the Worrell Professional Center (home of the Babcock School). In early October, the faculties of the two schools, aided by a consulting firm, prepared and approved a first-step plan for integrating their administrative policies and procedures.
"In the corporate world, I participated in several studies of organizational consolidations," Reinemund said. "One of the biggest problems in any merger situation is not the idea but getting it done right. The devil is in the details. Going into this study, I expected it to be about average. In truth, it was, by a long shot, the best study I've ever been involved with. And that was because the faculties were engaged and enthused from the very first day to an extent far greater than I had ever seen before."
The Evolution of a Leader
Character traits and values like Reinemund's aren't simply donned like cloaks in adulthood. They are the flesh of one's very being, incubated as a child. After his father died when he was six, his mother moved from California to Florida, where she raised three children. "She was a remarkable person who possessed an enormous amount of wisdom and a true moral compass that she passed on to her children," he said. "In different circumstances, she might have been the CEO of a company or a governor. But financially, we didn't have much."
Fortunately, throughout his youth, teachers, guidance counselors, and others came into his life at precisely the right times to pick him up and point him in the right direction. One especially impactful intervention occurred in seventh grade, when he ran for student council. "As I was about to go on stage to give a talk to the assembled student body, a guidance counselor noticed that I wasn't wearing a sport coat," he said. "All the other [candidates] had sport coats, so to level the playing field for me, he took off his own sport coat and put it on me before I made my entrance. Had it not been for him and more than a handful of others who paved the way for me, I would not have had the opportunities I've had. And throughout my career, I have strived to do for others what was done for me — to level the playing field for them."
A top student, Reinemund selected the U.S. Naval Academy over scholarship offers from a number of other prestigious schools. Commissioned a lieutenant in the Marines after graduation, he was stationed in Washington, D.C., where he met Gail, his wife of thirty-four years. They have four children.
Reinemund considered the Marines as a career, but ultimately chose business as the arena in which to manifest his foundational belief, instilled by his mother, that one's calling in life is beyond oneself. As he ascended the corporate ladder at PepsiCo, he benefited from the tutelage of the late D. Wayne Calloway ('59, LL.D '88), chairman and CEO of the corporation. His first connection with Wake Forest, in fact, was through Calloway, a trustee and valued presidential advisor at his alma mater for whom the undergraduate school of business and the building in which it is located were named.
Reinemund was in his late fifties and at the peak of his professional position and creative powers when he told the PepsiCo board of his decision to retire. "Our two youngest children were about to enter high school, and Gail and I decided that something needed to change," he said. "We lived in Dallas, and the corporate offices were in New York. That, coupled with the international nature of the business, meant that I was on the road constantly. The board and I took about a year and a half or two years to devise a transition plan, but when I finally left, I didn't have a specific [personal] plan in mind. I knew I wouldn't just stay at home, but I didn't play golf.
"Nathan and I had kept in contact over the years, and he invited me to come to Wake Forest to speak to the trustees a couple of times," he went on. "When this opportunity presented itself, a college campus seemed like a good place to give back to others all that I have been given. We brought the whole family to Winston-Salem for a weekend and put it to a vote. I could attend the meeting, but I didn't have a say in the matter. It was unanimous."
Finding One's "Calling"
If there is one word that Reinemund is particularly fond of — one that seems to encapsulate his vision for business education at Wake Forest — it is "calling."
"I start with the assumption that every student deserves a job if he or she wants it," he stated. "But beyond a job, the real goal is that the students find their calling — that they find their place in society in which they can make the kinds of contributions that will satisfy, enrich, and fulfill their own lives, their families' lives, and their communities. The bottom line is to help our students unlock that which is within them and to understand who they are, what they value, what they do well, and where they want to contribute. And we want to help them arrive at their own definition of success, understanding that success for them may not always be the way in which others define success.
"At the end, when they leave Wake Forest, we want every one of our students to have a compass with which to chart his or her path," Reinemund said. "We want them to enter the world as broad thinkers; as lifelong learners who value history, are conversant with global cultures, and understand the roles the arts, humanities, and social sciences play in organizations, and who can apply them in creative ways.
"The challenge before us," he concluded, "is to take the programs we offer and make them distinctive in a way that is very much 'Wake Forest.' It's all here — the liberal arts; the focus on international study and travel; the spirit of service to humanity; the institutional commitment to building a diverse community of scholars, teachers, and students — to create something truly special."