Margaret Hobbs Collins ('78) has come full circle since graduating from Wake Forest and pursuing a career in arts management in Atlanta and New York City. What started out as a move to the suburbs of New York instead took an unexpected turn south four years ago that brought her back to the Twin City to promote the arts.
"My husband had been wanting to leave New York for a long time, but I wasn't willing to let it go," she said. "I had a wonderful job and loved my career. But we had lived in New York for 20 years, and we decided as a family that we would have a better quality of life if we moved elsewhere."
A native of Shelby, N.C., Collins majored in music at Wake Forest and earned a master's in performing arts and arts management at American University. After working in fundraising for a chamber-music group and a theatre company in Atlanta, she and her husband, Ray Collins, a professional actor and director, moved to New York City. She built a successful career managing performing artists and booking music, dance and theatrical productions at concert venues along the East Coast, and eventually landed a plum position at one of the largest talent agencies in the world, International Creative Management (ICM).
A decision to move closer to SUNY-Purchase, where Ray was then teaching theatre, and to provide a better environment for their then nine-year-old son, Michael, led to some "soul-searching," she recalls, and they decided to make a more drastic move — and lifestyle change. By coincidence, or some would say, providence, the North Carolina School of the Arts in Winston-Salem invited Ray to interview for a new position at about the same time. Margaret Collins describes it as the moment when she suddenly remembered her old college town. "Winston-Salem reemerged as a great place," she said. "There are possibilities here, and people are open to change. You feel you can make a difference."
Collins remained with ICM for a year after she moved back, working the phones from her new home, before becoming development director for the Winston-Salem Symphony. In February, she joined the Piedmont Triad Partnership as director, Creative Enterprise and the Arts, where she promotes the growth of the creative industries and the arts throughout the 12-county Triad region.
Ray Collins is an adjunct professor in Wake Forest's theatre department and a real-estate broker. Michael, now 13, is thriving in school and enjoying more opportunities for after-school sports. "We were surviving in New York," Margaret Collins says. "We're putting down roots here and really enjoying the lifestyle."
— Kerry M. King ('85)
Office of Creative Services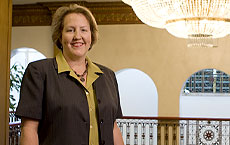 Top five things you like about living in Winston-Salem:
Active arts scene
Friendly people
Growth of downtown
Great lifestyle
Minimal traffic
Biggest change in Winston-Salem:
Downtown has come back to life and people are living there!
Favorite college hangout you miss the most:
Simos, Rose & Thistle and Sam's restaurants
Favorite college hangout you've rediscovered:
Village Tavern
Favorite new hangout:
Botta Bing and Burke Street Pizza and Downtown Thai
Best Wake Forest connection since you've been back:
Celebrating my 25th college reunion with a group of classmates at my house.