A supplement to Wake Forest Magazine
A War of Words
He fought the enemy in Iraq, but Matt Gallagher ('05) hardly expected his combat blog to start a battle back in the United States.

Peace Haven
Buck Cochran ('82) finds his calling—and his own inner peace—in a community where sustainability is about more than farming.

Social Media, Social Good
Social media networks are essential tools for connecting, communicating, and—as many alumni have found—serving the human cause.

Scholars Beyond Borders
With a stronger mentoring program, global outreach and interdisciplinary focus, Wake Forest embraces the liberal arts and the professions.

Rescue in the Gulf
The Gulf of Mexico oil spill left many feeling adrift about how to respond, but not Brian Yablonksi ('89). He mobilized forces to defend Florida's coast and marine life.

Learning to Look
In a first-year first, one famous painting unites one class of new students in a collective academic experience.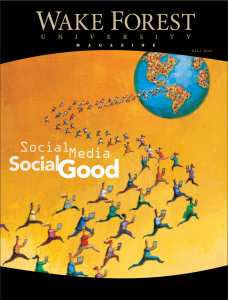 ON THE COVER: Social Media, Social Good [PDF]